How to Find the Best Slots Payback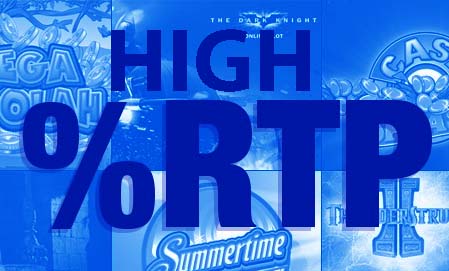 Share on Facebook
Slots payback (a.k.a. return to player) is important because it relates to your chances of winning. The higher a slots game's payback, the more money you can expect to win.
Unfortunately, it's not well-advertised where you can find games with the best return to player (RTP). This means that you'll have to perform research in order to find slots that give you the best chance to win.
Let's discuss exactly what you must do to find the highest-paying online and land-based slot machines. We'll also cover why it's so crucial that you put time and effort into this matter.
The Advantage of Looking for the Best Slots Payback?
As explained in the introduction, the obvious reason why you want to search for the best slots RTP is because this improves your odds of winning.
Let's look at an example:
You play two online slots games with 96% and 94% payback.
You bet $1,000 on both games
You theoretically stand to win $960 with the 96% RTP game.
You theoretically stand to win $940 with the 94% RTP game.
Many players would find it worth playing a certain slot machine if they can win an extra $20. Of course, results don't always work out this neatly in the short term due to luck.
You could win hundreds of dollars on the game with 94% payback, and lose hundreds on the slot with 96% payback. But the point is to give yourself the best long-term chance to win.
If you continually choose slots with the highest payback, then you'll experience more long-term winnings than when you don't do any research and play low-paying games. This is why many slots players care about researching payback.
What is Considered Good Land-based and Online Slots Payback?
Online vs. Land-based Casinos
The first thing to understand here is that online slots RTP is usually better than what's found in brick-and-mortar casinos. But why is this the case?
The main reason is because internet casinos have fewer expenses when running their operations.
They don't need physical slot machines, large casino buildings, machine attendants, cocktail waitresses, and big utility bills to power the complex. This combines to help online casinos feature better overall payout percentages.
Contrast this to land-based casinos, which have to cover all of the expenses mentioned above. The fact that they must have physical slot machines and floor employees is especially hard on their bottom line.
Players still go to brick-and-mortar casinos because they like the experience. But just know that you won't generally get as good a deal in land-based casinos.
Good RTP for Online Slots
The average slots payback for an online slot machine is 95%. This means that you'll earn back $95 on average for every $100 you bet.
These days, more internet slots are paying 96% or higher. This is especially the case with newer Microgaming and NetEnt games.
But by and large, the average online game is going to pay around 95%. If you see an internet slot that offers 94% or lower, then you're getting a bad deal in comparison to other online slots.
Good RTP for Land-based Slot Machines
Most gaming jurisdictions feature a minimum slots payback requirement for casinos. In the United States, for example, every state has their own requirement for minimum RTP.
Here are some examples:
Arizona – 83% minimum payback
Florida – 85% minimum payback
Kansas – 87% minimum (80% at Native-American casinos)
Maine – 89% minimum payback
Maryland – 87% minimum payout
Nevada – 75% minimum payback
New Jersey – 83% minimum payback
North Carolina – 83% minimum payback
West Virginia – 80% minimum payback.
Wisconsin – 80% minimum payback.
As you can see, these are extremely low in comparison to what we've discussed above with internet slots. But the good news is that brick-and-mortar casinos realize they need to offer decent payback in order to keep customers coming back.
This is why many land-based slots feature between 90 and 93% payback. You'll win less often at these rates than you will when playing online slots. But the good news is that you can at least look forward to reasonable payback in brick-and-mortar casinos.
Finding Payback for Online Slots
You can find RTP for internet slots through the following ways:
Googling individual games.
Searching for articles on the best payback.
Looking at games' paytables.
Searching individual gaming providers.
In a perfect world, every internet slot would feature RTP in the paytable. Unfortunately, this isn't always the case and you have to go searching for the information.
Looking up individual gaming providers is the top method because you can quickly find payback for a large variety of games.
The reason why looking at game providers is such an efficient way to find payback is because most feature the same payback across all casinos. For example, you can be confident that NetEnt's Blood Suckers will offer 98.0% payback at any casino where you find it.
Here's an example of looking up a specific slots provider to find out what payback their games offer:
Google term: "Rival Gaming slots payback."
This brings up a number of results.
One result on the first page lists Rival's highest-paying games.
Cosmic Quest 2 and Rock On! top the list at 98.0%.
The nice thing about this method is that it applies to any online slots provider. We can't guarantee that you'll always find a perfect list for every provider and their games. But you stand a good chance of quickly finding where the best online slots payback with this method.
Once you do spot the top RTP, visit casinos that the software provider serves and play the highest-paying slots.
Finding Payback for Land-based Slot Machines
When looking for slots payback at brick-and-mortar casinos, you immediately run into a major problem. Casinos can order different payback for individual slot machines. This means that you can't just google a certain provider like IGT or Konami and find a perfect list of games and payback.
Your best hope is that the game you're playing features the RTP in the help screen. If this isn't the case, your next best option is to search for the composite payback for casinos in your area.
Las Vegas is a perfect example because you can find lists that show average slots payback for each casino. We googled "Las Vegas slots payback" and found that Palms Casino (93.4%) offers the best overall payback in Sin City.
One thing that we don't recommend doing is paying attention to signs in the casino. For instance, you'll see signs above a bank of machines that read "Up to 98% Payback."
Obviously this sounds inviting because 98% RTP is about the highest you can find. But the catch is that gaming laws only require one machine in the entire bank to offer the stated payout percentage.
Odds are that you'll go into the machine bank and sit down to a game with less than 93% payback. Don't take this casino trick at face value, and only trust what you can see in a game's help screen as far as payback goes.
Don't Forget about Slots Volatility & Minimum Bets
Payback is an important concept regarding winning in slots. In fact, this is the only aspect that relates directly to how much money you stand to win and lose in the long term.
But you also need to worry about volatility and the minimum required bets. The reason why is because these factors relate directly to your bankroll management. Let's take a closer look at both volatility and minimum wagers in this section.
What is Volatility?
Volatility is the measure of how far results can deviate from the statistical average. In slots terms, volatility determines how streaky a game can be.
Slot machines with high volatility see you pick up big wins, yet suffer through long losing streaks. Some players are willing to put up with long losing periods provided they can hit big payouts.
Slots with low volatility don't offer really large payouts. But they're also less streaky and allow for more-consistent bankroll management.
How do you determine whether a slot has high or low volatility? Here are some traits of a game with high volatility:
Big jackpot
Other large payouts
Few low payouts
Multiple wild symbols
Multiple bonuses (i.e. free spins & second-screen bonus rounds)
Low volatility slots are the opposite of this because they don't have huge jackpots or lots of bonus features. Furthermore, they can offer more-frequent small payouts because they don't need to make up for large prizes at the top.
The type of game you want to play will depend upon your individual tastes. But if you want your bankroll to last for a while, we suggest choosing slot machines with lower volatility.
Minimum Slots Bets
It's always great to find slot machines with high RTP. But you also have to consider what the minimum required bet is too.
Some slot machines require you to play every payline, which can be expensive when there are 30-100 lines. Of course, more lines means you have a better chance to win prizes on each spin.
However, it's important to think about how a large minimum spin cost can counteract the high payback. You can see this explained through the examples below.
Example #1:
You play a game with 50 required lines and 97% RTP.
You bet one cent per line, or $0.50 per spin.
You perform 500 spins, meaning you wager $250.
Your theoretical losses are $7.50 (0.03 house edge x 250).
Example #2:
You play a game with no payline requirement and 95% RTP.
You play 20 lines at one cent, or $0.20 per spin.
You perform 500 spins, meaning you wager $100.
Your theoretical losses are $5 (0.05 house edge x 100).
You can see above that higher payback doesn't necessarily equate to a cheaper game.
It's still worth seeking out the best payback you can find. But also keep the minimum spin cost in mind if you're dealing with a small bankroll.
Other Important Considerations
Most people don't play slot machines because they're looking to reduce the houses to its lowest point. After all, you have a better chance of winning in playing baccarat, blackjack, or video poker.
This is why it's wise to consider what else is important to you when it comes to gaming. Check out the extra considerations below when choosing a slot machine.
Bonuses
The core element of playing slots is spinning the reels. And this concept hasn't changed in over a century. But bonus rounds can spice things up by adding a new wrinkle to slots games.
The most-exciting bonuses are the second-screen variety that see you play a unique game for prize money. For example, you might spin a prize wheel, or fire at enemies in a first-person shooter mode. Whatever the case is, bonuses are important to many slot machine players.
Features
Slot machines offer other extra features beyond just bonus rounds. These include special wild symbols, scatter payouts, and animations.
Of these features, the wild icons are especially popular among players because they give you a better chance to form wins. Here are the different wilds that you'll find in slots:
Expanding Wild – Wild symbol expands to cover an entire reel.
Random Wild – A wild icon can randomly appear anywhere on the reels.
Stacked Wild – Wild icon takes up an entire reel (already expanded).
Sticky Wild – The wild symbol remains on the reels for multiple spins.
Shifting Wild – Like sticky wild, except this moves horizontally until it's off-screen.
Graphics
These days, many slot machine players expect good graphics. And gaming providers have worked to reach these demands by offering quality 3D graphics and detailed backgrounds.
For instance, if you're playing a game based on vampires, you may see a spooky castle behind the reels. This is not only impressive from a visual standpoint, but it also sets you up for a more-entertaining slots experience.
Jackpot
Do you dream of hitting the perfect symbol combination and getting rich through slots? If so, then you should consider the jackpot size for any game you play.
Both online and land-based slot machines offer jackpots worth millions of dollars. And jackpot slots is where you should be if your goal is to win a life-changing payout.
In contrast, maybe your bankroll isn't very large and you don't have the funds to spin for a massive progressive jackpot.
In this case, you should consider games with random progressive jackpots. A random progressive prize can be won on any spin, no matter the symbol combination or how much you're betting. The last point is key because low rollers can qualify for these jackpots while betting very little.
Theme
In the past, slot machines revolved around basic symbols like 7s, apples, and cherries. Players didn't expect much from game themes because they were just happy to be in the casino gambling.
Times have changed, though, and players demand more from their slots experience. This is why many games today offer interesting themes that make it feel like a movie is playing out on the reels.
Going further, many people choose their slots based on the theme alone. Maybe you're an avid sports fan who likes playing slot machines that revolve around basketball or football. Or perhaps you enjoy fantasy themes slots that involve dragons, knights, and princesses.
Whatever the case may be, you can find numerous themes in the gaming world that enhance your slots sessions.
Final Thoughts on Finding the Best Slots Payback
We highly encourage you to look for the top slots RTP when trying to maximize your chances of winning.
This is easiest to do online, where you can just look for providers and how much their games pay. Land-based slot machines are trickier because you can normally only find composite numbers on an entire casino.
The best-case scenario is that your slot machine will list RTP in the paytable. This is the first place you should look when playing a new game.
Of course, it's also important to think about other factors that go beyond payback. These include volatility, minimum bets, bonuses, graphics, jackpots, and the theme.
Ideally, you'll find a fun slot machine that also checks off many of the other aspects you like in a game.