Newsletter
Sign Up for our Newsletter
Sign up to receive casino news, our latest exclusive bonuses and info about new casinos and slots.
Razor Shark Slot from Push Gaming


Share on Facebook
4/16/2019
Push Gaming has had a lot of success in recent years, thanks to their innovative games and high payouts. They'll be looking to add to this success when they release Razor Shark slot in the summer.
This game is set to drop on July 9th, 2019, which is less than two months away. Push Gaming is keeping their upcoming game under wraps for now. But we still have some info that can be used to speculate on Razor Shark ahead of its July 9th release.
What to Expect from Razor Shark Slot
As the name implies, Razor Shark is an undersea adventure about the scariest predators in the ocean. Symbols will include a great white, orange shark, hammerhead shark, dolphin, scuba tank, camera, and flippers.
We're assuming that the sharks and dolphin will serve as the high-paying symbols, while the diving equipment are going to offer low payouts. This game will also feature an anchor as a bonus icon.
The cartoonish graphics present these dangerous creatures in a light-hearted manner. Some of the sharks even have smiles on their faces, which softens the mood a little. Push Gaming has never been one for a serious tone, and they don't look to change things up with Razor Shark.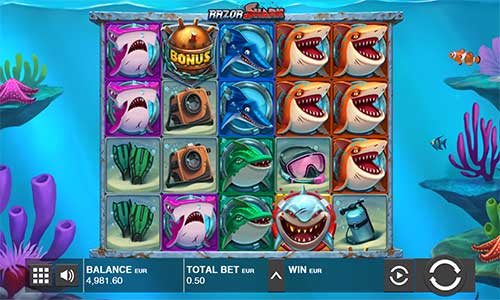 Possible Razor Shark Features
Most slots from this producer offer standard bonuses, such as free spins, multipliers, scatter payouts, and re-spins. Push Gaming isn't typically known for featuring second-screen bonus rounds.
We won't rule out the possibility of a second-screen bonus with Razor Shark. But chances are that it'll also have standard features, including free spins, multipliers, and/or scatter prizes.
Of course, Push is well known for delivering plenty of big wins. It's not uncommon for gamblers to earn 10,000x their line bet or more with these slots. Razor Shark will likely fit among our high volatility slots and feature some impressive wins too.
When Will Push Gaming Give Us More Details on Razor Shark?
Again, we're less than two months away from the launch of this slot. Push Gaming may soon put out a Razor Shark preview video on YouTube. However, they could simply leave players guessing and not release any other preview material beyond the symbol graphics.
Whatever the case may be, this game will be highly anticipated as the July 9th date draws closer. Push continues putting out hit slot after slot.
You can play Razor Shark online slot for fun here on its releaseday, play other Push Gaming slots or try their smash hit Jamming Jars for fun until then.
Razor Shark Features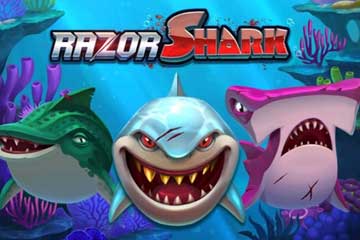 5 reels with 20 paylines
Free spins bonus game
RTP: 96.7%
Max Win: 50000x
Release Date (preliminary): 9/3/2019
Play Demo
Play Razor Shark at Push Gaming casinos